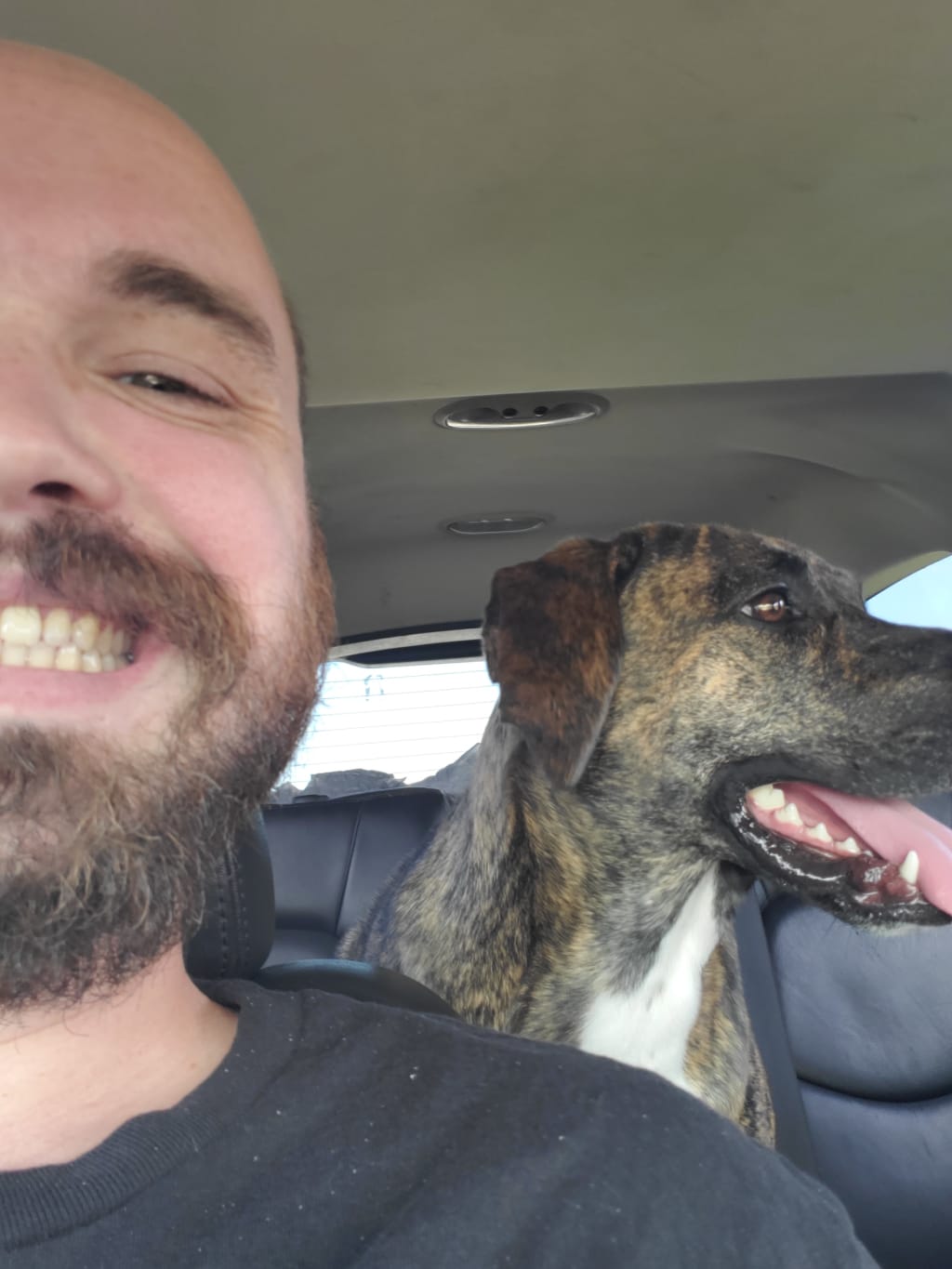 I didn't want to get a dog from the shelter. "They're crazy. They have issues. I'll have to deal with the trauma and I don't know how or have the time." Those were my thoughts and excuses, but my sister convinced me to at least give it a shot, so I did. There's a small, no kill shelter in my area, across the street from one of the houses I lived in for a while.
We pulled up to the small trailer with the large fenced in area and all the cages. Cats ran wild outside, the cages inside were already full. There were some dogs out front, but they were kept separate for a week or two just in case their owners came by looking for them, so those weren't up for adoption, even if they were super cute.
I was very specific in what I wanted for a dog, and am patient when searching for just the right thing. I had only just convinced my roommate to let me bring a dog into his house, something he never thought he'd agree to. He didn't like the idea of the dog hair everywhere. So, I wanted a dog that was gentle, calm, with short hair, and a girl. I wanted a girl because belly rubs are all belly with girls.
You see, my life before Maple was one of loneliness and depression. I would do anything to not be sober, and I often contemplated suicide. I eventually overcame all of those emotions completely in a way that can only be described as magical by experimenting with a certain natural psychedelic. That's a different story. But that experience gave me a clearness of mind and helped me understand exactly how much I needed companionship in my life. And I'd been wanting a dog for a long time.
As my sister and I were led into the fenced in area with all the cages, we saw dogs everywhere. So many different kinds, mostly mutts, and so many different sizes. I didn't want one that was too big. I actually prefer small breeds, but medium breeds are a compromise I was willing to make.
We walked the area, starting with the cages on the outside of the ring, as the lady who worked there told us about each animal, their temperament, and behavior. There were some who seemed okay, but they were boys or had long fur. Some were immediately aggressive. And I remember one who was so excited to see us, he was jumping to the top of his cage over and over. I felt bad that that was the reason I wasn't choosing him. He just wanted to get out, and I was thinking "too much energy." I made note of a couple I might consider going back to, but there were still more to check out.
Maple, whose original name was Zoey, was in a cage with her brother. She was actually the first dog we'd noticed walking in. They had a slightly bigger cage with a cot, and as we entered the area, she was laying in the cot on her back, legs up and out in that way that dogs relax.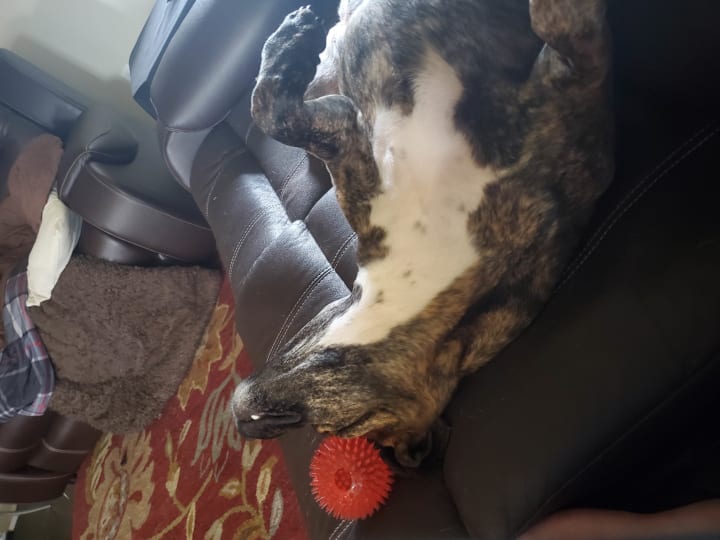 As we approached, the lady told me a little about her and her brother. I said I didn't want to separate siblings, but the lady assured me that she would probably want to get away from him. As we walked into the cage to meet them, I understood her point. Maple approached us very meekly, slowly, head down, unsure. Her brother, was quite the opposite. The whole time we were in there, he was jumping all over her, trying to steal our attention away. He had black and white fur, longer than hers, and for all his sweetness, he was too rambunctious for me, but she seemed perfect.
She was sweet, she seemed calm, she had short fur, that was soft beyond belief. And on top of it all, she was beautiful. I was in love immediately. I didn't have to wait to decide. She was the one. We collared her, and leashed her, and did our best to lead her away while keeping her brother inside. She was so agreeable and complacent. She didn't tug on the leash at all, she just followed us. My sister held her outside, while I went into the trailer to fill out the paperwork and pay the $50 adoption fee. And the whole time I was in there, she just sat next to my sister, not even trying to chase all the cats.
We loaded her into the car, which she went into willingly, and she laid in the back seat, quiet for the whole ride. I was trying to think of a name, and having trouble. Every name I came up with, my sister rejected immediately. Pebble, Marble, Sandy. I wanted it to be something describing her fur. When we got to my grandma's, so my sister could do her nails and help me bathe her, I was saying "I don't want to name her Honey. I keep thinking Molasses, but that's no good," and my grandma said "How about Maple?" It was the perfect name. We all immediately loved it. So that's how she got her name.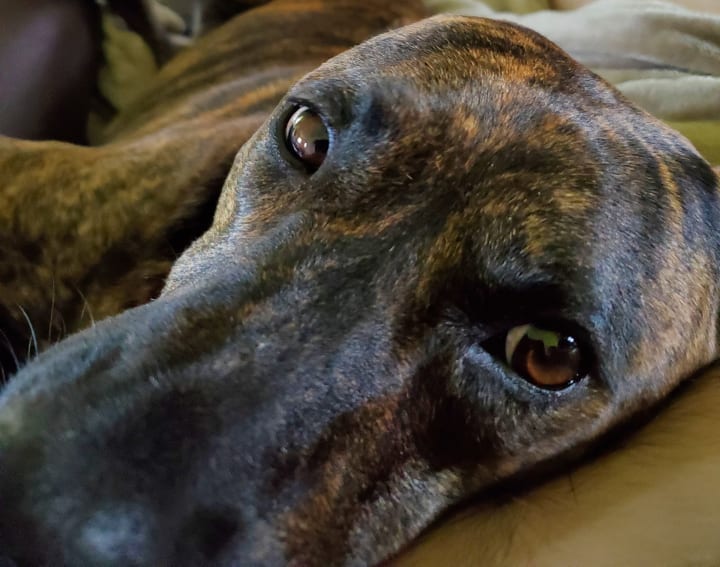 My sister has four dogs, and when she met them, she was not aggressive at all. She tucked her tail, dipped her head, and tried to wade through the avalanche of crazy animals. It was a good reaction. I didn't want a dog that would want to fight other dogs. Especially, since my neighbors have a Pitt Bull with a head the size of a bowling ball, and jaws that could crush a boulder. After getting her cleaned up, I led her back to my car, just me and her. She seemed to understand that she belonged with me. Or at least, she was eager to get away from the dogs jumping on her, sniffing her, licking her, and overwhelming her.
Another quiet ride to my house, and I brought her inside, to my roommate waiting on the couch. He didn't really believe I was going to get a dog, until I showed up with one. When I left, I told him "I'm going to the shelter, I may or may not come back with something." He thought I was joking. But here she was, in her new home. I unleashed her, and she was immediately submissive again, head lowered, tail tucked, as she sniffed around the house, getting to know the place. He wasn't exactly happy about it at first, but she grew on him. It took about three days. We had a storm, and he gets anxious during bad weather, pacing the house, looking out the windows. I was at work, and he was home with her. He told me that he sat on his bed, and she jumped up and laid her head on him, and that's all it took. She helped him relax, and he fell in love.
My sister had given me toys, harnesses, collars, and a bed for her. It took me a while to find the right spot for her bed. Eventually it ended up on the love seat that we never sat in. Over time, I figured out a good setup for the yard, since it's not fenced in completely. I got two really long leashes and a spike to twist into the ground, so she can roam the whole yard without running away or getting in the pond.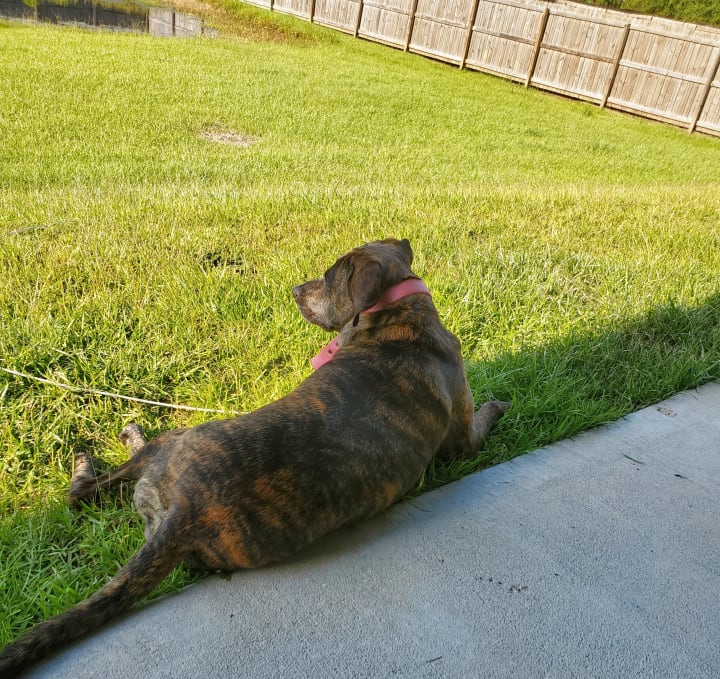 We go on walks in a trail not far from my house. And she loves that word so much, it's hard to get her harness on her. She goes straight up crazy as soon as she hears that "w" word.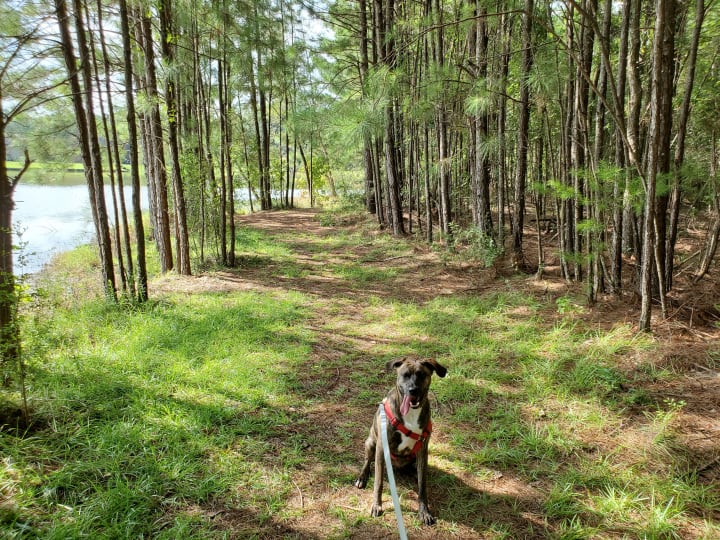 You see, she tricked me. I thought she was a sweet girl, but she isn't. It just took her some time to get used to us. She wild and spoiled. If I'm not telling her how beautiful she is, I'm telling her how crazy she is. For the first couple of months, I wondered if she was even capable of barking. Now she defends me from anyone who walks down the street.
She's been such a wonderful addition to my life. I tell her that she's my heart and soul. When she falls asleep, she likes doing it with some part of her touching me, whether it's her head lying on me, her nose pressed against me, or an outstretched paw. She sleeps in my bad and I always wake up with her cuddled right up against me. She's a reliable alarm clock, since I feed her breakfast every day at 7AM. Although sometimes she wakes me up a bit early… But I don't mind so much because waking up with her running circles around my room and licking my face is always a great way to start the day.
I've had her for almost a year now, and it's been one of the best years of my life. Having her around to pet and cuddle and hug and kiss, has really helped me get over my loneliness. I have a best friend who's always there for me, and always wants to play, and just loves everything I do. And I love her. She really is a sweet girl, though. She only tears up her own toys, she was house trained when I got her, she knows she's not supposed to bark in the house, but she just can't help it sometimes. The neighbor's cat likes to taunt her.
Her favorite words are Outside, Walk, Hungry, and Treat. When I say "Do you wanna go…" she doesn't even care how I'm gonna finish that sentence. It could be "outside," or "for a walk," or "to maw maw's," doesn't matter, those are all places she wants to go.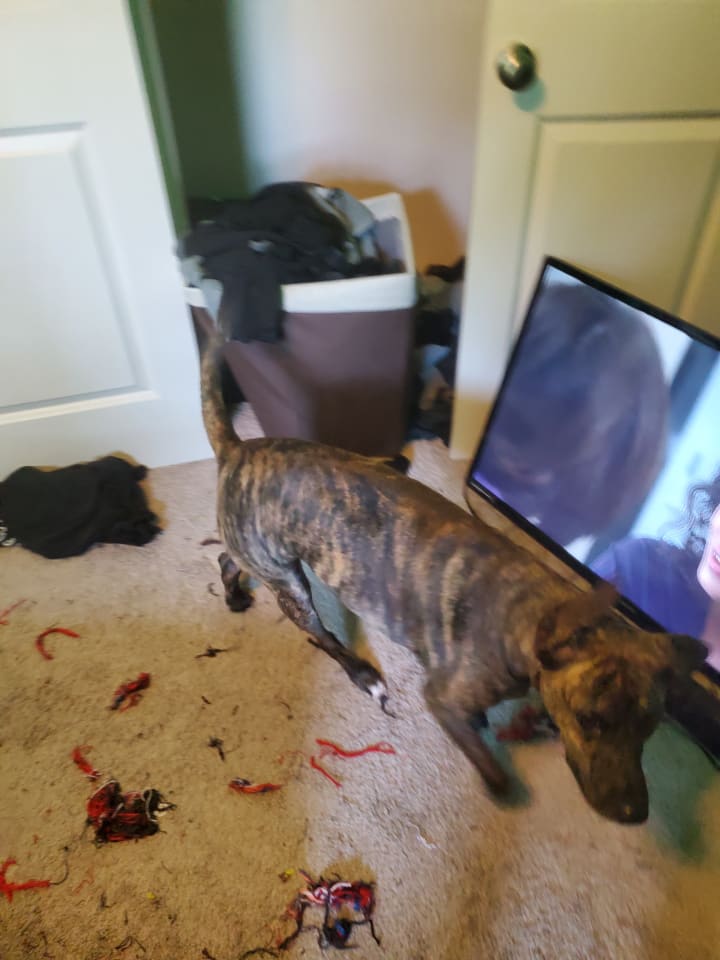 You can see the remains of a rope toy in this image. They last at most two days. She loves to play tug, but she just loves tearing those ropes up even more. I don't mind. They cost $1 and it gives me an excuse to clean my room on a regular basis. She chews on the pieces like gum.
She changed my life. She gives me a kind of happiness that I haven't felt in a long time. I wake up every day to a happy energetic puppy who wants to play with me, and I'm eternally grateful that I found her. And I'm certain she's happy I found her too. I love my dog. She's perfect.